Catalogue of stitches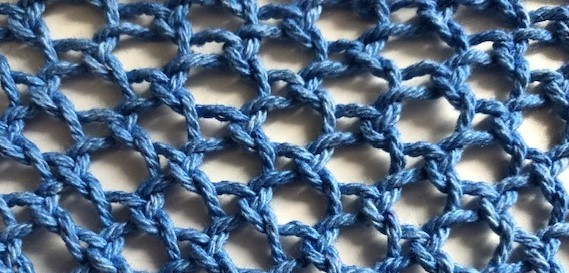 Contents
Introduction
A bobbin lace stitch is defined as something that happens when four bobbins meet on a pillow. On this page, we present an incomplete list of stitches to choose from. There are more than a 1000 possibilities.
On page listing and counting stitches, we will show a logical ordering of the stitches and the way we counted them.
This research started as a wiki document on the Point Fusion Forum (only available to members).
Pins
In the following paragraph, the stitches are shown without telling where to place a pin.
Stitches
Each stitch has links to a page with thread diagrams generated by Groundforge. Please allow the page to build up.
The samples and photo's are made by S. Babbs. Clicking on the photo shows a larger image.
description
name
photo and comment
one
c
cross only
Use only in combination with other stitches
two
ct
half stitch
cr
three
cct
double-crossed tulle stitch
ccr
incomplete half stitch variant
ctc
cloth stitch
ctl
ctr
asymmetrical half stitch
crr
four
cctt
open honeycomb turning stitch variant
ccrr
incomplete half stitch
ctct
whole stitch
cttc
open honeycomb turning stitch
cttt
tulle
ctrc
crct
clcl
crcr
simplified mock three pair stitch
crcl
See variations with 2 mirrored stitches.
five
ctctc
two pair snowflake
ctcrr
crrcr
mock three pair stitch
six
ctcctc
two pair spider
ctctct
triple half stitch / lock stitch
cttctt
honeycomb turning stitch
clcrct
crclct
cat's eyes
crclcl
two pair bias stitch
crrcll
mixed doubles turning stitch
seven
ctctctc
ctcrctc
clothwork turning stitch
clcrclc
crclcrc
two pair triangular stitch
eight
ctctctct
double whole stitch
ctcttctc
cloth stitch honeycomb turning stitch
crctclcr
two pair honeycomb bias
crcllcrc
two pair triangular stitch variant
nine and more
ctctctctt
ctcrclctc
split pair double cloth
ctclllllctc
ctcrrrrrctc
bobbin lace pile stitch
crrcllcrrcllcrrcllctt
tally (to fit)
---